Busking Report – Chancery Lane
Chancery Lane is the windiest station on the network. I don't have any statistics or science to back that up but seriously, it's so windy. I could barely stand up straight.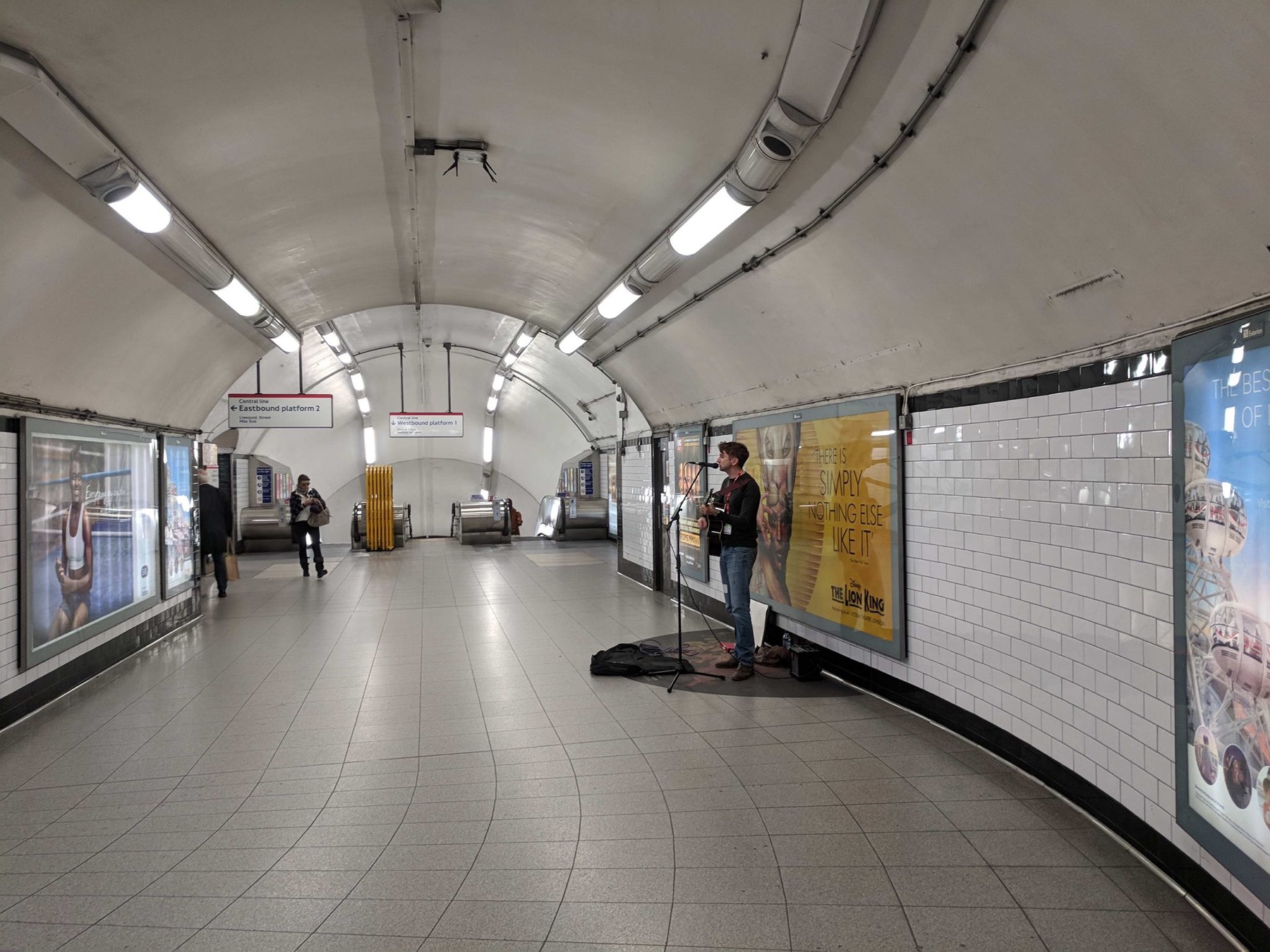 This time around I had a little blackboard, but sadly I didn't get any chalk in time so I put some craft paper over it with "TIPS APPRECIATED =)" written on in felt-tip pen.
Also, for the first time, I brought along a portable amplifier (Roland Micro Cube) and microphone! It helped.
I actually got to the station about an hour late. So, while I was only playing for 53 minutes I managed to rake in £18.64, which works out to £20.71 per hour. Huge improvement on last week. If only I'd gotten there on time!
The first tip
During the first verse of New Shoes by Paolo Nutini my good friend Jon started walking by, so I shouted at him in my amplified voice through the microphone. It took a couple of shouts before he realised, and he insisted that I accept his first tip of £2.05!
The biggest tip
A very cool-looking pair of teenagers (whom I would suggest were probably tourists) swaggered on by during Fat-Bottomed Girls and casually chucked £4.50 right into my guitar case. Pretty good. Not the largest I've ever received, but still uncommonly large. Thanks, tourist!
The best performance
This time it was probably Breakfast at Tiffany's. Half way through the second verse a group of drunk football fans came and started singing along. One guy didn't really get that I was in the middle of the verse so he sang the chorus, and I skipped ahead to satisfy him. As entertaining as he was, he didn't think to tip me in return for my skipping the second verse, but thankfully his ashamed-looking friend did.
A full two minutes after finishing this song as I was packing up, someone came along with a pound coin and told me, with a very serious look on his face, that I "might be the next Ed Sheeran". I'm fairly sure he meant it as a compliment. I told him he was very kind and he went on his way. Not a bad way to end a session!
How to improve
Having a microphone helped a lot, but I still need more tunes that I can rely on. And getting some chalk will help.
Heckle me on Twitter @basicallydan.